Carbon Sequestration Introduction
CO2 Is a Greenhouse Gas That Contributes to Global Warming
Carbon dioxide, or CO2, is a natural component of air that helps reflect the Earth's infrared radiation back to the surface, causing heat to be retained, as in a greenhouse. Without CO2, the planet would be inhospitable, with daily surface temperatures varying by hundreds of degrees. The amount of CO2 in the air had been relatively constant for ten thousand years until the Industrial Revolution in the 1800s. Since then, the world's population has grown tremendously, as has the use of coal, oil, and natural gas. Because CO2 is a primary product of combustion, the atmospheric concentration of CO2 has been on the rise. At the same time, average temperatures throughout much of the world have inched up and other climatic changes have been documented, indicating a connection between our use of fossil fuels and climatic effects.
Carbon Sequestration Can Help Stop Atmospheric Buildup of CO2
Because CO2 accumulates in the atmosphere before being removed by natural processes, slowing and ultimately reversing atmospheric CO2 buildup will require deep reductions in man-made CO2 emissions. Multiple solutions will be needed to meet this challenge, including more efficient energy use, alternative fuels, electric-drive transportation, electricity from non-CO2-emitting sources, and carbon sequestration.
Carbon sequestration refers to CO2 "capture" and its long-term storage away from the atmosphere. Indeed, it is sometimes called carbon capture and storage (CCS). CO2 can be captured in two basic ways—(1) by enhancing natural processes such as terrestrial sequestration that remove it from the air, and (2) by modifying industrial plants to remove or capture CO2 from process or exhaust gases, followed by storage in underground geologic formations.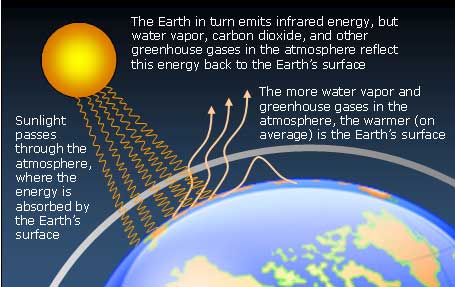 CO2 in the atmosphere limits the escape of heat from the Earth's surface to space. Too much CO2 in the atmosphere causes average temperatures on Earth to rise.
Technology Validation Is Urgently Needed
Because carbon sequestration technologies are relatively new, research and demonstration efforts are needed to advance our knowledge of their potential to lower greenhouse gas levels. To this end, WESTCARB is undertaking both terrestrial and geologic field validation projects to assure the effectiveness of these sequestration technologies in a western North American setting.