Northern California CO2 Reduction Project
The Northern California CO2 Reduction Project sought to establish that CO2 can be safely stored in a deep saline formation. This type of geological formation is prevalent throughout California's Central Valley and other areas in WESTCARB's territory. A project site was selected in the Montezuma Hills in Solano County, California, for geologic characterization and small-scale CO2 injection. Characterization work is complete, but the CO2 injection is no longer planned as of August 2010.
The project was a collaborative undertaking between WESTCARB and C6 Resources, an affiliate of Shell Oil Company. The project team successfully developed a geologic model based on available well log and seismic data from the surrounding area, which has a history of natural gas exploration, production, and storage. The team then used the model to simulate the injection of 6000 tons of CO2. Results suggested that the area is an excellent candidate for CO2 storage. Permit applications for well construction and CO2 injection were developed, and several public meetings were held in Rio Vista, California, in early 2010. U.S. EPA Region 9 issued a draft Underground Injection Control permit.
C6 Resources subsequently reached a business decision not to proceed with well drilling and CO2 injection in the Montezuma Hills. WESTCARB has concluded its work at the site and will assemble its research findings for publication.

Participating Experts and Agencies
WESTCARB includes some of the leading experts in CCS, as well as key environmental and energy stakeholders, such as:
Lawrence Berkeley National Laboratory
Lawrence Livermore National Laboratory
Stanford University - Global Climate and Energy Project
University of California, Davis
Massachusetts Institute of Technology
U.S. Department of Energy
California Air Resources Board
U.S. Environmental Protection Agency
California Energy Commission
Shell Oil Company
As society looks to combat the effects of climate change by creating greener energy alternatives, carbon capture and storage presents a major opportunity for both the environment and the regional economy.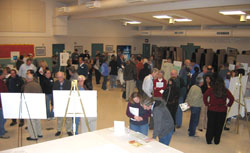 Attendees at the open house in Rio Vista, California, discuss the Northern California CO2 Reduction Project with project team members. (January 28, 2010)